Special Offer - Early Bird Pricing On all calendar magnets on this page, take 10% off regular prices for all orders placed before the end of this month. Click below for details.
These personalized calendar magnets are digitally printed and intended for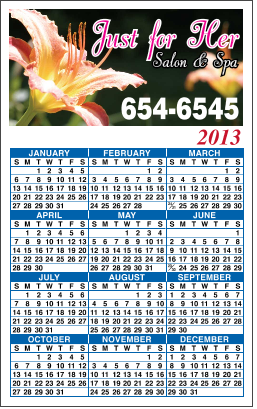 indoor use. All colors will be created from 4-color process. Exact color matches, metallic colors and fluorescent colors are not available.

Material: Calendar magnets are available in approximately .019" or .036" thicknesses (additional charges apply for thicker material). If the material thickness is not specified, the .019" thickness will be used.
These specials apply on orders placed before the end of this month. Contact us for details.

Special Offer: Take an additional 10% off magnetic calendars when you buy $200 or more of another product from Heritage Advertising! That makes a total of 20% off the below chart prices -- cheapest calendar prices on the internet.
Quantity Calendar Magnets

125

250

500

1,000

2,500

5,000

10,000

2" x 4"
Square Corners

.87

.50

.40

.34

.25

.19

.18

Round Corners

.90

.51

.41

.35

.27

.20

.19

4" x 3-1/2"
Square Corners

1.16

.66

.51

.35

.26

.21

.20

Round Corners

1.19

.68

.53

.36

.28

.23

.21

3-1/2" x 5-5/8"
Square Corners

1.30

.71

.57

.50

.40

.36

.34

Round Corners

1.32

.74

.60

.54

.42

.38

.35

4" x 7"
Square Corners

1.31

.85

.64

.52

.41

.37

.34

Round Corners

1.34

.86

.65

.54

.43

.39

.36
An additional $20 non-refundable artwork layout charge must be paid before work can begin.

Refrigerator Calendar Magnet

Above prices are for one to 4 colors, or 4-color process. For 4-color process, you may supply your own digital photo, or choose from over 30 stock photo images for the background of your fridge calendar magnet.


Calendars are cheap advertising all year long for real estate, business, school, and churches.
A full calendar system has a different calendar date for every day. Thus the week cycle is by itself not a full calendar system; neither is a system to name the days within a year without a system for identifying the years.

The simplest calendar system just counts time periods from a reference date. This applies for the Julian day. Virtually the only possible variation is using a different reference date, in particular one less distant in the past to make the numbers smaller. Computations in these systems are just a matter of addition and subtraction.

Other calendars have one (or multiple) larger units of time. Calendars that contain one level of cycles:

week and weekday * this system (without year, the week number keeps on increasing) is not very common year and ordinal date within the year, e.g. the ISO 8601 ordinal date system Calendars with two levels of cycles:

year, month, and day * most systems, including the Gregorian calendar (and its very similar predecessor, the Julian calendar), the Islamic calendar, and the Hebrew calendar year, week, and weekday * e.g. the ISO week date Cycles can be synchronized with periodic phenomena:

An astronomical calendar is based on ongoing observation, examples are the religious Islamic calendar and the old religious Jewish calendar in the time of the Second Temple. Such a calendar is also referred to as an observation-based calendar. The advantage of such a calendar is that it is perfectly and perpetually accurate. The disadvantage is that working out when a particular date would occur is difficult.

An arithmetic calendar is one that is based on a strict set of rules, an example is the current Jewish calendar. Such a calendar is also referred to as a rule-based calendar. The advantage of such a calendar is the ease of calculating when a particular date occurs. The disadvantage is imperfect accuracy. Furthermore, even if the calendar is very accurate, its accuracy diminishes slowly over time, owing to changes in Earths rotation. This limits the lifetime of an accurate arithmetic calendar to a few thousand years. After then, the rules would need to be modified from observations made since the invention of the calendar. This information can be displayed on a magnetic calendar.
2012 Magnetic Calendar, Magnetic Calendar cheap, Magnetic Calendars - Magnetic Calendars Real Estate,


Be sure to see our other fine calendar products:






Heritage Advertising, Inc.
4100 Bob Wallace Avenue SW
Huntsville, AL 35805
Telephone: 321-253-0424
Email:

Magnetic Calendar History Lesson:
Many calendars incorporate simpler calendars as elements. For example, the rules of the Hebrew calendar depend on the seven-day week cycle (a very simple calendar), so the week is one of the cycles of the Hebrew calendar. It is also common to operate two calendars simultaneously, usually providing unrelated cycles, and the result may also be considered a more complex calendar. For example, the Gregorian calendar has no inherent dependence on the seven-day week, but in Western society the two are used together, and calendar tools indicate both the Gregorian date and the day of week.[2]

The week cycle is shared by various calendar systems (although the significance of special days such as Friday, Saturday, and Sunday varies). Systems of leap days usually do not affect the week cycle. The week cycle was not even interrupted when 10, 11, 12, or 13 dates were skipped when the Julian calendar was replaced by the Gregorian calendar by various countries.

The above is provided as a public service of the 2013 magnetic calendar printer.

Save the date magnets