Carpenter Pencils


Special Summer Time - Mass Production Prices

Using heavy duty 22 point heavy white cardboard, we can offer a limited amount of hand fans at very cheap prices. This heavy duty cardboard will endure months of use, and is not the flimsy paper fans used by the competition. Give us a call (706-374-0710) for a FREE quote and to put our years of promotional and advertising experience to work for you.
Handfans are screen-printed on a heavy white cardboard and have a wooden handle attached. These are not flimsy fans like the competition. These promotional fans are made from heavy, high-quality material, better than many other materials used for fans. Choose any of our standard colors displayed below. Each hand fan is about 8" x 9", not counting the handle. We have many shapes available including those displayed above and more. Production time is approximately 2-3 weeks.
Standard Imprint Colors for Custom Heavy Duty Handfans
The following standard imprint colors are available for no extra charge on our custom heavy-duty handfans. There is an additional $20 per color charge to match custom PMS colors.
Church hand fans, political hand held fans, business handfans, the best prices are at www.yardsigns.org. An additional $35 non-refundable artwork charge must be paid before work can begin.
Many More Hand Fans To Choose From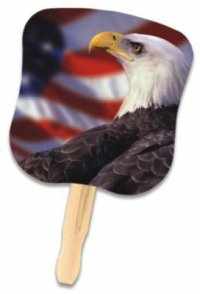 Please contact us for pricing if you need a custom shape.






Heritage Advertising, Inc.
4100 Bob Wallace Ave SW
Huntsville, AL 35805
Telephone: (706) 374-0710

Email:



Hand fans at the lowest prices!

| | |
| --- | --- |
| Made of 3/16" thick corrugated plastic (same material we use for our corrugated plastic yard signs). Rectangle shape is 7-1/4" x 13-5/8"; hour glass is 7-1/4" x 12-7/8"; round is 8" x 12" and oval is 8-1/2" x 12". | Plastic Hand-held Fans |
Promotional Church hand fans
| | | | | | | |
| --- | --- | --- | --- | --- | --- | --- |
| Plastic Hand-held Fans | 125 | 250 | 500 | 1,000 | 1,500 | 2,500 |
| 1 color imprint on 1 side | 1.95 | 1.25 | 0.92 | 0.80 | 0.77 | 0.72 |
| Each additional color | 0.34 | 0.30 | 0.28 | 0.25 | 0.23 | 0.20 |
Set up charge is $35.
Ecclesiastes 12:13 Let us hear the conclusion of the whole matter: Fear God, and keep his commandments: for this is the whole duty of man. Genesis 26:5 (King James Version) Because that Abraham obeyed my voice, and kept my charge, my commandments, my statutes, and my laws. The Battle of the Alamo was in the 7th of 13 days. Santa Ana's 3,000 troops were assaulting the old San Antonio mission. His "take-no-prisoner" policy had all 189 defenders killed, including Jim Bowie and former U.S. Congressman Davy Crockett. Col. James Fannin's troops, the only Texas army in the field, left Goliad to come to Alamo's defense, but were surrounded in open ground and surrendered. Santa Ana ordered all 350 prisoners executed. When the Mexican officer hesitated killing them, Santa Ana sent another who carried out the order. Had Col. Fannin's troops been imprisoned or released penniless in the wharves of New Orleans, Texas would have been disheartened, but instead Santa Ana's cruelty aroused worldwide outrage. The Texas Declaration of Independence, signed March 2, 1836, stated: "General Antonio Lopez Santa Ana...has demanded us to deliver up our arms, which are essential to our defense-the .. Saturday, July 1, 2006 IRS DAY
It all started with the big bills the U.S. was running up fighting the Civil War. To help pay for the war, Congress established the Bureau of Internal Revenue on this day in 1862. President Abraham Lincoln signed the bill into law, making it possible for the feds to collect a three percent tax on incomes ranging from $600 to $10,000, and five percent on incomes over $10,000. Several precursors to the law were never officially enacted or enforced, and this law was just a temporary one... The Bureau became the Internal Revenue Service in 1913. It was then that a 16th amendment was added to the U.S. Constitution permitting the Federal Government to once again collect a tax on income. Through a complicated system of rules, the Internal Revenue Service became the official collection agency and the reason why U.S. citizens all shudder and shake annually on April 15.