Special Summer Time - Mass Production Prices
Using heavy duty 22 point heavy white cardboard, we offer a limited variety of custom printed hand fans at very cheap prices. These heavy duty cardboard hand fans will endure months of use. Shapes include the hourglass, square, circle, oval, bread, palm leaf, coat of arms and interstate sign. Contact us at 706-374-0710 for other shapes. Wooden handle on backside is exposed.

Customized Hand Fans
| | | | | | |
| --- | --- | --- | --- | --- | --- |
| Quantity of Fans: | 250 | 500 | 1,000 | 2,500 | 5,000 |
| One Color | 0.76 | 0.50 | 0.34 | 0.29 | 0.25 |
| Each Additional Color | 0.31 | 0.15 | 0.08 | 0.05 | 0.04 |
Hand Fans - Printed - Custom Made
Custom Made and Imprinted
Custom made hand fans are screen-printed on heavy white cardboard and have a wooden handle attached. These are not flimsy fans like the competition. These promotional fans are made from heavy, high-quality material, better than many other materials used for fans. Choose any of our standard colors. Each hand fan is about 8" x 9", not counting the handle. Production time approx. 2 weeks. Buys fans at discounted prices.
Select a Shape
Standard Imprint Color Chart for Hand Fans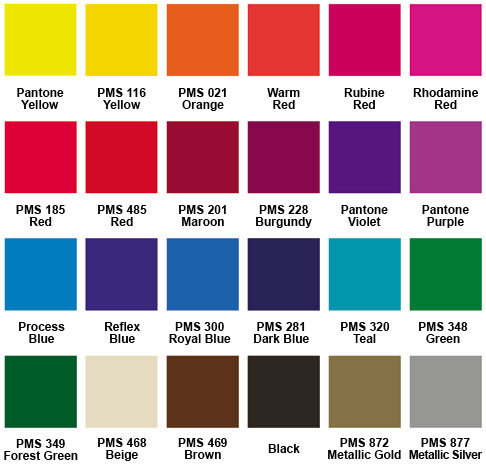 Church hand fans, political hand held fans, business hand fans, the best prices are at yardsigns.org An additional $35 per color, per side non-refundable artwork charge must be paid before work can begin.
Information:
No charge for standard colors. PMS Color Match - $20.00 per color.
Artwork - Artwork is $35 per color, per side. More if complex.
Halftones - $45.00 from original photo.
Stock - Heavy 22 point high density white poster board.
Made in U.S.A. label - No charge, upon request.

More Hand Fans To Choose From
Heritage Advertising, Inc.
4100 Bob Wallace Ave SW
Huntsville, AL 35805
Telephone: 706-374-0710
Email:

Printed Fans
Types of printed fans vary as widely as the imagination. They can be made from nearly any material, be quite ornate and beautiful or very simple and functional. They can cost next to nothing, or be relatively expensive. It all depends on the workmanship that goes into them and their level of technology.
In the past, personalized printed fans have been only simply designed units without much technology. The material used was a fibrous material, such as paper or dried vegetation, such as palm leaves.
Collapsible hand fans are perhaps the most common type. These fans often have metal or wood sides that hold the inside of the fan together. When the fan is ready to be expanded, the sides simply pull down, often making a half circle. In some ways, the inside of the fan looks like an accordion.
Hand printed fans were invented, or at least gained widespread popularity, in Asia and as such may be referred to as Asian hand fans. Often made of silk, they can be very impressive to look at. The designs and colors used often make them a favorite of many people. Even those who do not put them to practical use may buy them to use as collectibles.
Printed fan History Lesson.
Printed hand fan history stretches back thousands of years. Since antiquity, printed fans have possessed a dual function - a status symbol and a useful ornament. In the course of their development, fans have been made of a variety of materials and have included decorative artwork. The simplest fans are leaves or flat objects, waved to produce a cooler atmosphere. These rigid or folding hand-held implements have been used for cooling, for air circulation, as a ceremonial device, and as a sartorial accessory throughout the world from ancient times. They are still widely used.
The Journals of the Continental Congress record: "Wednesday, SEPTEMBER 7, 1774, 9 o'clock a.m. Agreeable to the resolve of yesterday, the meeting was opened with prayers by the Rev. Mr. Duche'.
Voted, That the thanks of Congress be given to Mr. Duche'...for performing divine Service, and for the excellent prayer, which he composed and delivered on the occasion." A great lesson for a church fan. Rev. Jacob Duche' had prayed: "O God of Wisdom...direct the counsel of this Honorable Assembly...that the scene of blood may be speedily closed...that Truth and Justice, Religion and Piety, prevail." John Adams wrote: "Reverend Duche'...read the 35th Psalm... After this... unexpectedly to every body, struck out into an extemporary prayer, which filled the bosom of every man present. I must confess, I never heard a better prayer." The Library of Congress printed on an historical placard of Carpenter's Hall, Philadelphia: "Washington was kneeling there with Henry, Randolph, Rutledge, Lee, and Jay, and by their side there stood, bowed in reverence the Puritan Patriots of New England... ' It was enough' says Mr. Adams, 'to melt a heart of stone. I saw the tears gush into the eyes of the old, grave, Pacific Quakers of Philadelphia.'"
Exodus 24:12
And the LORD said unto Moses, Come up to me into the mount, and be there: and I will give thee tables of stone, and a law, and commandments which I have written; that thou mayest teach them.

Exodus 34:28
And he was there with the LORD forty days and forty nights; he did neither eat bread, nor drink water. And he wrote upon the tables the words of the covenant, the ten commandments.