Hand Held Fans are great to use for any Church, Campaign, Business or Organization
Use Custom Hand Fans as a business card substitute.
Hand held fans are screen-printed on heavy white cardboard and have a wooden or plastic handle attached. These are not flimsy hand fans. These promotional fans are made from heavy, high-quality material, better than many other materials used for hand fans.
Wooden or plastic handles on backside are exposed and glued. Comes in many stock shapes displayed below. Contact us at 706-374-0710 for pricing on custom shapes. Choose any of our standard colors (see chart below). Each hand fan is about 8" x 9", not counting the handle. Production time approx. 2 weeks.
Give us a call (706-374-0710) for a FREE quote and to put our years of promotional and advertising experience to work for you.
| | | | | | |
| --- | --- | --- | --- | --- | --- |
| Quantity of Hand Held Fans | 250 | 500 | 1,000 | 2,500 | 5,000 |
| One Standard Color Custom Imprint, Wooden Stick Handle | 0.81 | 0.51 | 0.38 | 0.32 | 0.26 |
| One Standard Color Imprint, Plastic Handle | 0.87 | 0.57 | 0.44 | 0.38 | 0.32 |
| Each Additional Imprint Color | 0.32 | 0.16 | 0.08 | 0.06 | 0.05 |
An additional $35 per color, per side non-refundable artwork charge must be paid before work can begin. Add an additional $45 charge for logos and/or photos. If acceptable artwork cannot be provided, additional art charges will apply.

Select a Shape
We offer the following stock shapes for the same low price. State shapes available (not shown): Arizona, Georgia, Illinois, Iowa, Louisiana, Maine, Michigan, Missouri, Nevada, Nebraska, Ohio, Pennsylvania, South Carolina and Texas.
Custom shape hand fans are also available - contact us at 706-374-0710 for additional custom die charges.
PMS Color Chart for Customized Imprinting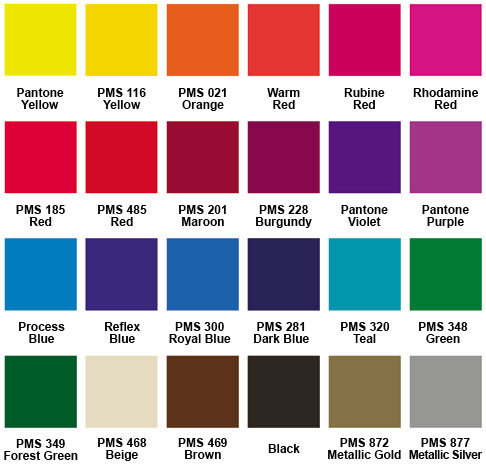 Church hand fans, Political hand held fans, Business hand fans, Wedding hand fans the best prices are here at Heritage Advertising.

A Hand fan may be referred to as a political fan, church fan, rally fans, paddle fan or a printed promotional cardboard fan.





Made of 3/16" thick corrugated plastic. Each hand fan is approximately 8" x 12" and is imprinted with waterproof ink. Available shapes include: rectangle, hour glass or round.

A minimum 1/4" non-bleed border is required around the edge of the fans.
Custom Imprinted Plastic Hand-held Fans
(All hand fans pictured are shown with 2 or more colors on custom imprint.)
| | | | | | | |
| --- | --- | --- | --- | --- | --- | --- |
| Plastic Hand-held Fans | 125 | 250 | 500 | 1,000 | 1,500 | 2.500 |
| 1 color imprint on 1 side | 2.02 | 1.29 | 0.96 | 0.82 | 0.79 | Call |
| Each additional imprint color | 0.34 | 0.30 | 0.28 | 0.25 | 0.23 | Call |
Set up charge is $35.

For more information on different types and style of hand fans or give us a call: 706-374-0710 or 706-273-5600:
Hand Held Fans Advertising: Name Identification, the first step in influencing your customer
Advertising works when your name or company product is flashed many times upon the mind of the consumer. After your name is impressed upon the mind several times, the person soon memorizes your name. Once that is achieved, you become a familiar name they are comfortable with. They will prefer a familiar name over the not well known almost every time. They will choose your product or vote for your candidate because they are familiar with the name. Advertising by means of name imprinting on yard signs, bumper stickers, bumper magnets, magnetic signs, cheap hand fans, or cheap hand held fans and other means have proven to be one of the cheapest means available to get inside the mind of your customer.




A hand held fan is an implement used to induce an airflow for the purpose of cooling or refreshing oneself. Any broad, flat surface waved back-and-forth will create a small airflow and therefore can be considered a rudimentary fan. But generally, purpose-made fans are shaped like a circle segment made of a thin material (such as paper or feathers) mounted to slats which revolve around a pivot so that it can be closed when not in use.

The movement of a handfan provides cooling by increasing the airflow over the skin which in turn increases the evaporation rate of sweat droplets on the skin. This evaporation has a cooling effect due to the latent heat of evaporation of water.

Deuteronomy 13:4 Ye shall walk after the LORD your God, and fear him, and keep his commandments, and obey his voice, and ye shall serve him, and cleave unto him.

Ecclesiastes 12:13 Let us hear the conclusion of the whole matter: Fear God, and keep his commandments: for this is the whole duty of man.


lc
st