Full-Color Hand Fans - Sandwiched promotional Fans printed in four color process
We offer low minimums on our full color digital hand fans. These digital economy hand fans are:
Digitally printed in full color and/or any number of imprint colors

Printed on high density 12 point white poster board

Double sided film lamination

Finished product is 22 point thickness

Available in many new shapes
Prices include full-color pint on both sides of fans! Wooden stick handle is exposed on back side of fan. Handles are glued, not stapled.

1- and 2-sided printing available. Full color promotional fans make a powerful visual impact.
Give us a call (706-374-0710) for a FREE quote and to put our years of promotional and advertising experience to work for you.

Three shapes available: Square, Round, House.
Actual sizes -
Square: 7-1/2" W x 7-1/2" H
Round: 7-1/2" diameter
House: 7-1/2" W x 8" H.

Fans are glued with card stock on both sides with stick in the middle so the handle won't show on the back (called a "sandwich" fan).
12 point cover stock, coated.


Production Time: 7-10 working days after proof approval. Pay extra for short deliveries. Set up charge is $45 per side. Additional art charges apply for complex art.
| | | | |
| --- | --- | --- | --- |
| Quantity Hand Fans | 250 | 500 | 1,000 |
| full-color/1-side | .95 | .92 | .80 |
| full-color/2-side | 1.38 | 1.13 | 1.03 |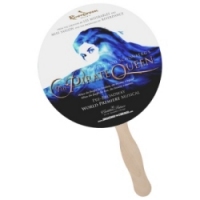 Other types and style of hand fans offered by Heritage Advertising. Call 706-374-0710 for both customer assistance and a free quote. We will help you pick the best hand fan for your needs.

Other Full Color Promotional, Campaign or Advertising Products
Full Color Bumper Stickers
Full Color Car Tags
Full Color Magnetic Business Cards
Full Color Save The Date Magnets
Full Color Signs
Full Color Yard Signs
Heritage Advertising, Inc.
4100 Bob Wallace Ave SW
Huntsville, AL 35805
Telephone: 706-374-0710
or Email:

Promotional Fans
A history of promotional fans. Before the days of air conditioning, promotional fans were used by the rich elite for cooling.

China's centennial fan tradition starts at Emperor Hsien Yuan's time (about 2697 b.C.). A legend claims that the invention of the fan belongs to the daughter of Kan-Si. The story tells that during a mask ball and to avoid heat, she shacked very fast her mask very close to her face, so male guests could not recognize her. Her gesture was imitated by the rest of the ladies attending to the ball.

Some authors declare that the earliest archaeological proof of the existence of the promotional fan belongs to the VIII Th century for the fixed fan in China and to the IX century for the folding fan in Japan.

In Occident, during middle Ages, the fan or "flabellum" was used during the Christian liturgy to avoid insects and refresh the believers. After the XIV Th century the flabellum fall into disuse in the Roman Church (except solemn masses and processions until it finally disappears after Vatican Council II), despite of this, its use was kept in Greek churches and Armenia where it was named "Rhipidion". Using full color fans was the normal process of the elite.

The fan was also known by Aztecs and Incas. Between the gifts given to Hernan Cortés by Moctezuma six feather promotion fans were included.

In Spain the earliest references about the fan appear at the chronicles of Pedro the first of Aragón (XIV Th century). Another references of this object appear at the inventory of goods of the painter Bartolomé Abella (1429), the inventory of Prince of Viana, and the inventory of Juana the Queen in 1565 (known as Juana the madness). The fans described were semicircular fixed ones.

A full color feather fan was included in the gifts given by Christopher Columbus to the Catholic Queen Elisabeth after his first trip to America.

KST